CLICK HERE - Westaustralia.Net's own VIRTUAL REALITY panoramas. Nice attractions, with cheesy music for each view!
SCOOPTRAVELLER - Get the Scoop. Get yourself the glossy magazine!
CLICK HERE - Indigenous Tourism Operators: Not everyone wants to meet a sandy haired white-fella in khaki shorts.
CLICK HERE - Outback Travelling with Russell Coight.
* * *

Roger Roos Says: "Caution when driving in WESTRALIA !"
DISCLAIMER: Westralia.Net and the people and entities involved accept no responsibility for accuracy or completeness of any material contained in these publications. Additionally, Westralia.Net and people and entities involved or associated in any way disclaim all liability to any person or entity in respect of anything, and of the consequences of anything, done or omitted to be done by any such person or entity in reliance, whether wholly or partially, upon any information, details, inferences presented in these publications.
Where did we learn such messages of irresponsibility? ...From a Real government publication of course!
If you think a "Pirate Government" is bad news....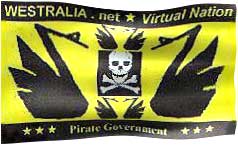 ...Wait until your life suffers at the hands of the REAL government of WA.