PRESIDENT MOSES NGOOMBUJARRA
Westralia.Net * HEAD OF STATE * Virtual Nation
Moses Ngoombujarra was appointed President of Westralia by Westralia.Net administration during 2004.
Meekatharra born Wadjarri-Yamadji, President Ngoombujarra represents Westralia's citizens as Head of State. This is an important role of ceremony and national identity, and although carrying no power in policy-making, the President does provide our citizens with a human figurehead that is representative of our own community by geography and cultural heritage.
While neighbouring Australia is still debating whether they should have their OWN head of state, let alone how to appoint one, progressive Westralia.Net - Virtual Nation, leads the way.
Presidents Bush and Ngoombujarra Meet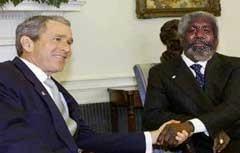 Prior to appointment, Mr. Ngoombujarra travelled the globe, as a private cultural and anthropological consultant, where his unique knowledge is highly valued internationally, particularly in the creative arena of film, literature and artistic productions.
Westralia.Net administration was successful in negotiating suitable terms of appointment for Mr. Ngoombujarra, enabling him not only to fulfil the role as President to the virtual nation, but additionally to represent our interests, national objectives, and promotion of "Westralia.Net - Virtual Nation" to the global community as Head of State.
Possibly the Last Leaders' Meeting for Mr Arafat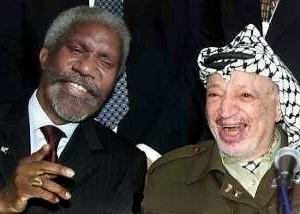 President Ngoombujarra Shares One of his "NATION WITH NO LAND" Jokes with the late Yasser Arafat
During 2004 President Ngoombujarra travelled to Europe, the Middle East, North America, and Africa meeting with world leaders, introducing them to the concept of the Virtual Nation. Mr. Ngoombujarra was able to demonstrate during his travels that although the concept may be new, in practice it was not, as many national borders are simply illusionary, dictated solely by different systems of government that come and go.
In today's technological climate, physical geography was less relevant than the ideals and beliefs that bought individuals together into "community" of similar social values.
As in Westralia's case, individuals have come together through fighting often incompetent state government mechanisms that have not only frequently caused death and injury to innocent citizens, but are also jeopardising Westralia's future of unique opportunity to be a global leader of social and resource management.
Westralia President, Press Confrence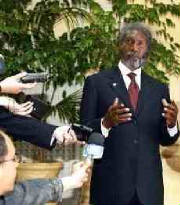 President Ngoombujarra's Presentations, Challenging Tangible Borders
President Ngoombujarra informs international leaders that although the reality of borderless cyber-government is not considered a realistic option, Westralia.Net is the first cybernation in practice.
By using real geographical reference points, this is solely a means of altering the climate of thought in small steps.
Ultimately that notion will be redundant, towards such time, as we perceive ourselves without geographical borders, and as one humanity.
Within his argument he concedes there will always be some degree of retrospectivity. Some communities will choose to reject, or by forced exclusion from within, the fruits of borderless societies dictated by the evolution of new technologies, communication, science, and the spiritual need of humans for common fellowship, balanced with the learned appreciation of diversity.
USE THE NAVIGATION AT LEFT
TO JOURNEY WITH
PRESIDENT MOSES D. NGOOMBUJARRA
ON HIS INAUGURAL
GLOBAL INTRODUCTORY TOUR.