Consul to CANADA - Niv Fichman.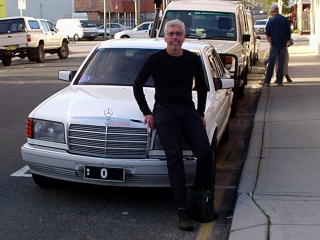 Niv with the official Westralia.Net limousine during film shoot in Fremantle, Westralia
CANADA: Niv Fichman, Film Producer / Director represents Westralia.Net in Canada.
Niv expressed his desire for ambassadorial duties while in Westralia to shoot some consequences of the WA government's citizen poisoning concealments. (See our
Westralia
Wind-Up
Journal entry
June 23, 2004
).
https://virtualnation.tripod.com/wind-up
After being offered a position as Consul to Ontario province, he immediately expressed his disappointment at not being placed as Consul for all Canada.
So as he whinged loud enough, he got it.
Of course being the savvy media operator that he is, we suspect his real motivation is to secure the international motion picture rights for the Westralia.Net saga when it all unravels to B...B...B...Bigger-than-Brockovich proportions.
Niv spends more than 50% of his time out of his Toronto HQ, travelling the globe promoting and securing sales for his company's media productions.
So although as a representative to Canada, Niv also carry's our torch of hope all over the globe. In any given month, Niv could be found in Toronto, Tokyo, Cannes, Sydney, Tel Aviv, or Hollywood.
Niv is the get-about type of guy we need!
Westralia.Net Consul to Colombia

Olga Uribe
COLOMBIA: Olga Uribe is Westralia.Net's Consul to Colombia After learning via the internet (with our valuable Babel Fish translation on every page) the number of former government workers dying in our "Workers' Paradise" killed by the WA government's own action and negligence, she was touched enough to want to spread our word into South America. Sure, it is not all beer and skittles living in one of the most dangerous kidnapping and narcotic capitals of the world, but at least in Colombia the government doesn't whitewash the corruption and crime that is in your face. Olga, with letters in Philosophy and degrees in Information Technology sees the scope for the Virtual Nation to project model policies that can be practised in reality. …And let's face it, South America is always looking for fresh reasons to overthrow the ruling juntas. However she was genuinely shocked to see how the WA government poisoned Aboriginal workers and now denies responsibility and legitimate entitlements to basic human rights. Not to mention the various other jokes that we report from the likes of our Health Office. Forget about these things only happening in the likes of South America. Now Olga can say to her fellow Colombian citizens, "Hey look! We have some competition, …and the WA government's dead are not even guerrillas, drug traffickers, or kidnappers, but their own aboriginal workers, plus a few whites thrown in, just so it can not be called race specific!" Wow! ...All this killing of innocents, corruption, and Banana-Republic antics, with not a machine gun or cigar in sight!
MONACO: Bruce Hobday is Westralia.Net's man in Monaco, the world's most famous tax haven, and home to the cursed Grimaldi family.
(We are all waiting for a marriage to a Kennedy, just to see how bad a double-hex can get).
Bruce originally hails from Westralia and was exported to France by Westralia's own yachting luminary, Rolly Tasker in 1970 to instruct the European sailmakers the Tasker techniques for which Rolly was famous. Bruce continued to evolve Westralian modern yachting and sail philosophies in the French and German markets, making sails for America's Cup challengers and many other highly competitive classes. As you can see, Bruce is a debonair style of character who represents our virtual mission to Monaco and the French Riviera with dashing aplomb. When not on blue waters of the Med', he may also be found motorcycle racing through the South of France, or perhaps in hospital as a result of same.
***